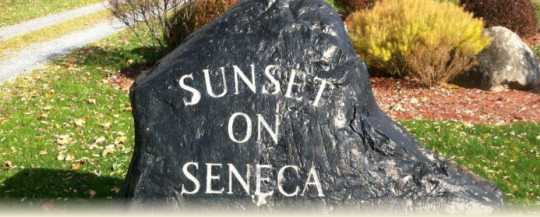 Sunset on Seneca Campsites LLC. is a seasonal use campground/mobile home park located in the heart of the
Finger Lakes on the East shore of Seneca Lake, Lodi, New York.

Sunset on Seneca Campsites has 104 seasonal residential units owned by
individuals on land leased from Sunset on Seneca Campsites LLC. There are also available overnight camper and tent sights for nightly, weekly, or monthly rent.

Sunset on Seneca Campsites provides recreational access to the lake through Lodi State park which is located just down the road, as well as providing sewer, water, electric and garbage facilities to each unit.



Seasonal campers are allowed to bring golf carts! You must have insurance and a permit from the office.
We now have kayak rentals! $25 for all day or $18 for (4) four hour rentals.
Cabin rental with AC $60 a night


Our yearly calendar is full of fun events for the whole family. Each year we post all of our events so you can see what we special events we have planned each weekend throughout the camping season. We also post popular area events so you can plan trips off the campsite and into the nearby Finger Lakes community.


April 13th - Coffee and Donuts at the office 9am

May 10th - Weiner Roast with Bingo afterwards at the Pavilion 2pm

May 24th - Dish to pass dinner at the pavilion 2pm

June 14th - BBQ with games, inflatables, contests and acoustic music with Charlie at the pavilion starting at 2pm, music from 6-9pm

July 5th - Fishing contest, (1st, 2nd, 3rd) place get cash prizes. Biggest fish, $25 entry fee per boat (must register)

July 19th - Boating trip to Dresden's "warm spot" bring your boat, cooler and snacks and fill your boats to join us. Meet at the pavilion at 9am to decide weather and departure time.

July 26th - Eden's Apple live music from 7-10pm at the pavilion

August 9th - Pig Roast and live music with Charlie, starts at 2pm, music from 6-9pm

August 15th and 16th - Seasonal Campers Rummage Sale

August 30th - Best Dish contest with prizes 2pm at the pavilion

September 20th - Weiner Roast with Bingo afterwards 2pm at the pavilion
read more...

Being right next to Seneca Lake activities abound both on and around our campground. There is great fishing and boating on Seneca Lake. Our campground has access to a boat launch just next door at Lodi State Park so you can quickly get off and go fishing or water skiing on the lake. There are numerous vineyards within a few miles with wine tasting tours and Watkins Glen motor speedway is not far away either. Our campground is family oriented with plenty of things for children to do. We now have an arcade, a playground and miniature golf to entertain the children.
read more...